Walk Behind Professional Floor Scrubber Eureka E61
ECONOMICAL & ECOLOGICAL
The E61 is a professional walk behind floor scrubber which, equipped with the innovate Eureka ECOsystem®, guarantees impressive labour, water and detergent saving and boasts a productivity rate three times greater than traditional systems.
CATALOGUE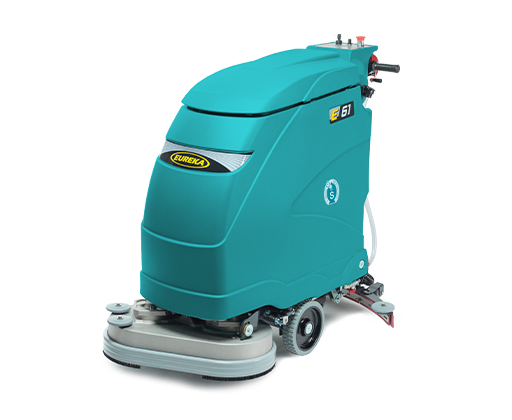 E61 - WALK-BEHIND SCRUBBER-DRYER
Designed around Eureka's ECOsystem® technology, this machine is a professional walk-behind scrubber-dryer, ideal for the thorough cleaning of small to medium areas. The twin brush scrub deck has a cleaning path of 610 mm which, combined with a top speed of 4 km/h, delivers an area coverage of 2.440 m2/h.
Available in TRAC M, TRAC TRONIC and top of the range ECO versions.
EUREKA ECOSYSTEM®
The exclusive ECOsystem® uses a unique method to recycle water and cleaning detergent, therefore increasing productivity and decreasing time wasted emptying and refilling. This reduces the quantities of cleaning detergent and water required, guaranteeing both cost and labour savings.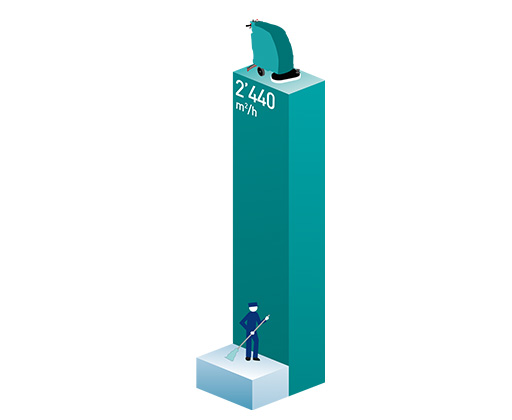 AVAILABLE VERSIONS
TRSAC M (mechanical - electronic free)
TRAC TRONIC
ECO (full optional version, with ECOsystem®)
FIELDS OF APPLICATION
Industrial sites, communities and vicinities, schools, offices, religious buildings, hospitals, public buildings, airports, ports, shopping malls, logistical depots, cleaning companies, and multi services.
SUITABLE CLEANING SURFACES
Ceramics, marble, cement/concrete, linoleum, non-slip surfaces, porcelain tiling, and many other dirty conditions.
| TECHNICAL SPECIFICATIONS | E61 TRAC M | E61 TRAC TRONIC | E61 ECO |
| --- | --- | --- | --- |
| Cleaning path (mm) | 610 mm | 610 mm | 610 mm |
| Cleaning capacity | 2.440 m²/h | 2.440 m²/h | 2.440 m²/h |
| Solution tank capacity | 40 L | 40 L | 40 L |
| Recovery tank capacity | 56 L | 56 L | 56 L |
| Drive | electronic assisted | electronic assisted | electronic assisted |
| Forward speed | 4 km/h | 4 km/h | 4 km/h |
| Power | 24 V | 24 V | 24 V |
| Battery | 2 x 12 V | 2 x 12 V | 2 x 12 V |
| Battery charger | on-board | on-board | on-board |
| Weight (inclusive of battery & charger) | 206 kg | 206 kg | 206 kg |
| Size (without squeegee) (l x w x h) | 1.301 x 630 x 1.110 mm | 1.301 x 630 x 1.110 mm | 1.301 x 630 x 1.110 mm |
| Squeegee width | 830 mm | 830 mm | 830 mm |