E36 - compact walk-behind scrubber-dryer
SMALL DIMENSIONS, EXCEPTIONAL PRODUCTIVITY
The E36 is Eureka's compact walk-behind scrubber-dryer, ideal for the thorough cleaning of small, confined spaces you couldn't scrub before. It's suitable for areas ranging between 200 m² and 1000 m².
CATALOGUE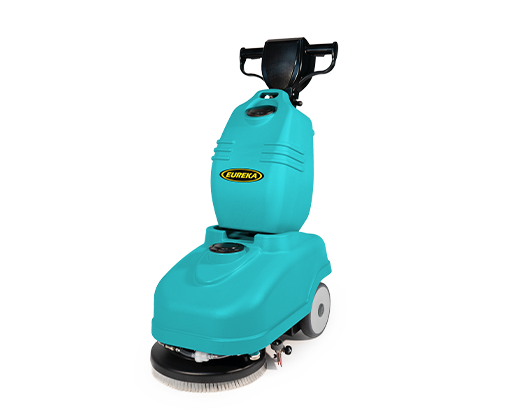 E36 - HIGH PERFORMANCE COMPACT WALK-BEHIND SCRUBBER-DRYER
The E36 model has a cleaning width of 360 mm which, combined with a 3,7 km/h speed, boasts a cleaning capacity of 1.332 m2/h.
The E36 is available either driven by a 12 volt sealed battery, which allows for up to an impressive 1 hour and 40 minutes of continuous operation, or cord powered, for unlimited running time. The machine can be easily folded for storage and for easy transportation. 
The brush, or the abrasive pad, can be rapidly replaced without the need for tools. The water hose and the vacuum hose are incorporated within the handle bar, for better protection, easier maintenance, and easier detachment of recovery tank.
For safety reasons, the E36 can be switched on and off with a convenient key. The handle bar can be adjusted to height for better operator comfort. The controls are fully visible and very intuitive.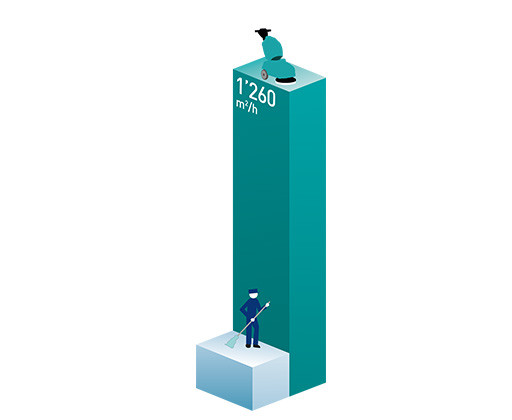 AVAILABLE VERSIONS:
• E36 AGM / LI-ION (Driven by 12 V Battery - 1 hour 40 minutes continuous operation)
• E36 CABLE (Cord Powered - unlimited running time)
FIELDS OF APPLICATION 
Restaurants, Kitchens, swimming pools, Locker rooms, cafes and bars, hospitals, clubs, small factories, supermarkets, drugstores and many more small to medium size areas.
SUITABLE CLEANING SURFACES 
Ceramic tiles, marble, cement, linoleum, porcelain tiles, rubber floors, on any kind of dirt.
| TECHNICAL SPECIFICATION | E36 AGM / LI-ION (Battery) | E36 CABLE |
| --- | --- | --- |
| Cleaning path | 360 mm | 360 mm |
| Cleaning capacity | 1.250 m²/h | 1.250 m²/h |
| Fresh water tank capacity | 14 L | 14 L |
| Recovery tank capacity | 16 L | 16 L |
| Drive | mechanic | mechanic |
| Forward speed | 3,5 km/h | 3,5 km/h |
| Power | 12 V | 230 V |
| Standard battery | 1 x 12 V | - |
| Battery charger | on-board | - |
| Weight | 63 kg (inclusive of battery & charger) | 41 kg |
| Size (without squeegee) (l x w x h) | 680 x 450 x 1.000 mm | 680 x 450 x 1.000 mm |
| Squeegee width | 450 mm | 450 mm |