E65, E75, E83 - Professional Ride-On Scrubber-Dryers
High performance ride-on, manageable like a walk-behind
The E65, E75 and E83 Eureka ride-on scrubber dryers have been designed following the M – mechanical philosophy. These machines keep electronics to a minimum and are designed to be extremely easy to use and maintain.
CATALOGUE
The E65, E75 and E83 Eureka ride-on scrubber dryers  have a compact design and respective cleaning paths of 65 cm, 76 cm and 83 cm. With a forward speed of 6 km/h they guarantee an hourly productivity rate of up to 5.000 m2/h.
Agile, quick, and productive, the E65, E75 and E83 are a modern alternative to bulky walk-behind scrubber-dryers or outdated, large ride-on units.
Furthermore, these models offer the economic advantage of 4 hours of non-stop uptime, thanks to the optimization of energy consumption.
Contained dimensions enable the machines to pass through standard doorways and be transported in elevators.
A complete set of standard accessories and a competitive price point complete the many benefits of these wonderful Eureka scrubber-dryers from the Mechanical series, loved by operators for their ease of use and reliability.
PLUS:
Powerful traction motor in protected position
Powerful and silent vacuum motor
Stainless steel anti dust filter protects vacuum motor
Onboard battery charger
Steel squeegee adjustable and parabolic
Self-levelling splash guard
Stainless steel debris basket in recovery tank
Automatic squeegee uncoupling on impact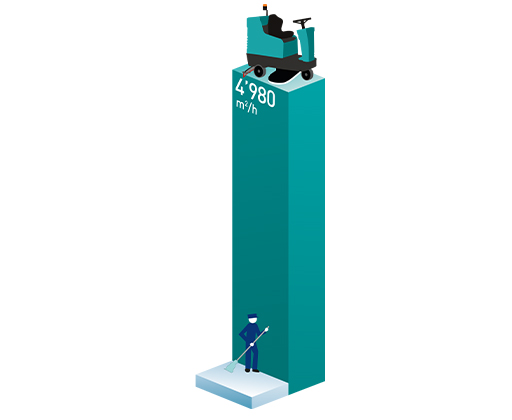 VERSION
TRAC M – without added electronics
APPLICATIONS
Industrial sites, local councils, schools, offices, hospitals, religious buildings, airports, ports, shopping centers, logistic centers and contract cleaners.
SURFACES
Ceramic, marble, cement, linoleum, porcelain tiles, non-slip floors and rubber.
| TECHNICAL SPECIFICATIONS | E65 TRAC M | E75 TRAC M | E83 TRAC M |
| --- | --- | --- | --- |
| Cleaning path | 650 mm | 760 mm | 830 mm |
| Cleaning capacity | 3.900 m²/h | 4.560 m²/h | 4.980 m²/h |
| Solution tank capacity | 110 L | 110 L | 110 L |
| Recovery tank capacity | 125 L | 125 L | 125 L |
| Drive | electronic assisted | electronic assisted | electronic assisted |
| Forward speed | 6 km/h | 6 km/h | 6 km/h |
| Power | 24 V | 24 V | 24 V |
| Battery | 4 x 6 V | 4 x 6 V | 4 x 6 V |
| Battery charger | on-board | on-board | on-board |
| Weight (inclusive of battery & charger) | 343 kg | 350 kg | 357 kg |
| Size (without squeegee) (l x w x h) | 1425 x 690 x 1243 mm | 1425 x 790 x 1243 mm | 1425 x 890 x 1243 mm |
| Squeegee width | 920 mm | 980 mm | 1.040 mm |