Picobello 101
THE FIRST STEP TO SUCCESSFUL AUTOMATION!
More than 10 times faster than a man with a broom! This manual floor sweeper combines productivity with value for money, and can be used to keep small to medium floor areas dust-free.
CATALOGUE
PICOBELLO 101 - THE MANUAL SWEEPER THAT COMBINES PRODUCTIVITY WITH VALUE FOR MONEY!
Picobello 101 is a walk behind push sweeper with a total sweeping path of 730 mm which can sweep up to 2190 m2/h. Picobello 101 and can be used to efficiently sweep small to medium floor areas.
Eureka Picobello 101 works just as well over hard or soft floors, indoor or outdoor. Agile in narrow areas Picobello 101 is 100% operator-friendly and suitable for a variety of applications. Ideal for the dust-free sweeping of industrial spaces, yards, parks, condos, sports clubs, parking lots, warehouses...etc.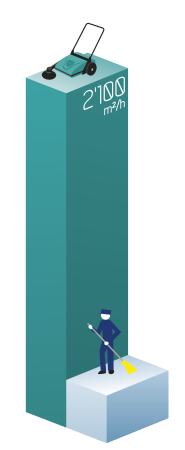 CHARACTERISTICS
100% ECO-FRIENDLY
SIMPLE & FLEXIBLE
COMPLETELY NOISELESS
AGILE IN NARROW AREAS
FAST AND ECONOMICAL
CAN JUST WORK AS WELL OVER HARD OR SOFT FLOORS, INDOOR OR OUTDOOR.
IDEAL FOR EFFICIENT SWEEPING OF YARDS, PARKS, CONDOS, SPORTS CLUBS, PARKING LOTS, WAREHOUSES...
FIELDS OF APPLICATION
Industrial sites, communities and vicinities, schools, offices, religious buildings, hospitals, public buildings, airports, ports, shopping malls, logistical depots, cleaning companies, and multi services.
SUITABLE CLEANING SURFACES
Ceramics, marble, cement/concrete, linoleum, non-slip surfaces, porcelain tiling, and many other dirty conditions.
| TECHNICAL SPECIFICATIONS | 101 |
| --- | --- |
| Sweeping path with side brush | 730 mm |
| Sweeping path only main brush | 500 mm |
| Cleaning capacity | 2.190 m²/h |
| Capacity of main dirt container | 26 L |
| Capacity of rear dirt container | 4 L |
| Patented vacuuming/filtering system | - |
| Filter type | - |
| Weight | 24,5 kg |
| Size (l x w x h) | 1.296 x 824 x 937 mm |