Rider 1201 - Ride on Floor Sweeper
QUALITY WITHOUT COMPROMISE
The Rider 1201 ride on sweeper is a combination of technology and ideas which enables all operators to keep large industrial and commercial areas perfectly clean, working in total comfort, quickly and at low cost.
CATALOGUE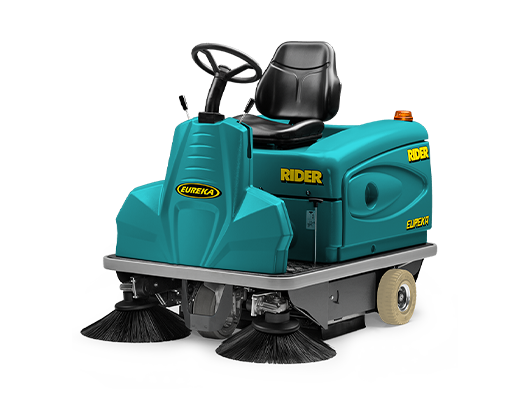 RIDER 1201 - HIGH PERFORMANCE, GREAT BENEFITS, OPTIMUM  PRODUCTIVITY
The wide sweeping path (1.200 mm with 2 side brushes) combined with the fast operational speed delivers a large cleaning capacity, up to 10.200 m2/h.
The compactness of this ride-on sweeper, with its small turning radius (1.000 mm), makes it particularly suitable for sweeping in narrow, confined areas not accessible by larger machines. The large filter area (4 m2) enables sweeping in the dustiest of environments.
The Rider 1201 is at least 30 times faster than the swiftest labourer with a yard broom, and covers a full shift without the need for a tea break! Additionally, the Rider 1201 sweeps the floor more accurately and efficiently, controlling the dust that would be lifted by manual sweeping.
Total visibility and easy entry/exit from both sides allow the operator effortless access to narrow spaces. The tough metal structure, combined with the epoxy-painted chassis, means additional protection against bumps, collisions, and better defense against scratches or rust.
REINFORCED SIDE HOODS TO TACKLE TOUGH JOBS:
Designed to further enhance resistance to impact, a set of reinforced side hoods is available as optional accessory on the new Rider 1201. 
The reinforced steel panels make the Rider even more robust, in order to withstand the toughest operational conditions.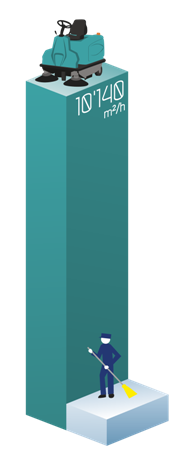 AVALAIBLE VERSIONS
RIDER 1201 S with petrol engine, Honda
RIDER 1201 E battery driven
FIELDS OF APPLICATION : Industrial sites, communities and vicinities, schools, offices, religious buildings, hospitals, public buildings, airports, ports,
shopping malls, logistical depots, cleaning companies, and multi services.
SUITABLE CLEANING SURFACES : Ceramics, marble, cement/concrete, linoleum, non-slip surfaces, porcelain tiling, and many other dirty conditions.
| TECHNICAL SPECIFICATIONS | RIDER 1201 EB | RIDER 1201 SH |
| --- | --- | --- |
| Sweeping path with side brushes | 1.200 mm | 1.200 mm |
| Sweeping path only main brush | 700 mm | 700 mm |
| Capacity of dirt container | 85 L | 85 L |
| Forward speed | 6,5 km/h | 8,5 km/h |
| Cleaning capacity | 70865 m²/h | 10.200 m²/h |
| Filter type | polyester bag filter | polyester bag filter |
| Drive | electronic assisted | hydraulic |
| Main Motor | 1 x 24 V - 1200 W | Honda 6.5 Hp |
| Battery system | 24 V | - |
| Weight (inclusive of battery & charger) | 435 kg | 340 kg |
| Size (l x w x h) | 1.545 x 1.200 x 1.250 mm | 1.545 x 1.200 x 1.250 mm |